6 False Ceiling Benefits Other-than Aesthetics
A false ceiling is a ceiling that is being suspended from the main roof with the suspension fixed to the walls, beam, or roof the superstructure; it is a ceiling created under the main slab or the floor using the several materials like POP gypsum sheet, plywood, etc.
False Ceilings – Functional Benefits
They transform the look and feel of the room is a given. There are zillions of ways of designing the false ceilings. You can refer a good collection on our website. They facilitate better lighting and give a modern look to the space. Here, we look at functional benefits over and beyond aesthetics.
---
They help in concealing electric wires, duct, pipes and utilities
Be it for the TV, the AC and the Wi-Fi router, or even the ceiling fan, every urban household has multiple wire networks. Moreover, it is no wonder that how successfully entangled wires can botch up a good-looking room. And no piece of home décor can be able to compensate or cover that, except obviously a false ceiling. Grid false ceilings or gypsum false ceilings work particularly very well.
The offer a good amount of concealed space to the stash wire meshes. They also help in concealing utilities (water, fire safety) and gridworks used to supply power. Apart from aesthetic purposes, false ceilings are also quite very useful in simply safeguarding the residents against being exposed to these electricity suppliers.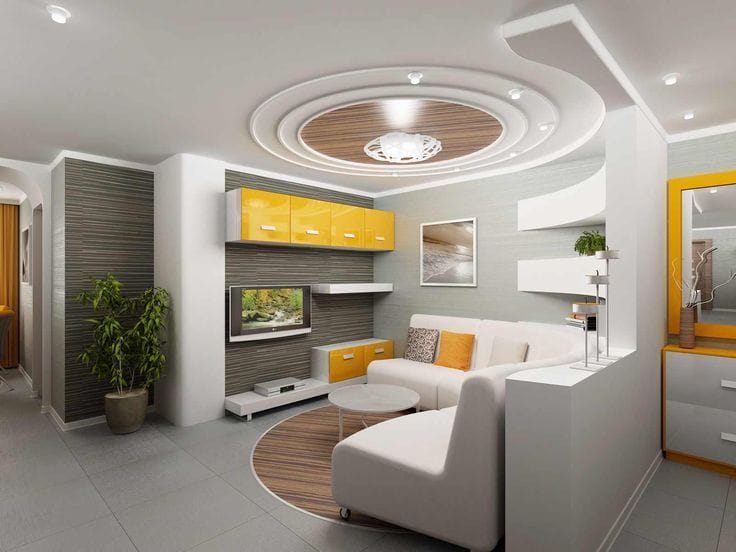 They provide sound-proofing advantage
Another essential reason that led to the invention of the false ceilings was to offer acoustic balance and control. A noisy room can help to create an uncomfortable atmosphere. The little extra space that the drop ceiling conceals helps in absorbing the excessive noise in a room.
Many of the false ceilings consist of readily installed Sound Attenuation Batts, or SABs are lightweight, fiberglass insulation batts that help to absorb and attenuate sounds. False ceilings are low maintenance and highly convenient.
They protect your room from fire hazards
Additionally to the gridworks and wires, false ceilings can also protect against fire hazards. When made with fire-resistant boards (gypsum coated and specially treated) they can offer adequate resistance in such circumstances.
They are excellent for the safe installation of smoke alarms, water sprinklers, and heat detectors to warn against and protect one from fire hazards. However, they need to be installed carefully and materials have to be procured from authenticated sources. Explore good quality false ceiling contractors near your location on our site.
They are energy-efficient and reduce costs!
This one sure looks crazy! Drop ceilings are an amazing way to reduce the energy consumption of air conditioners. The air pocket / concealed space between the surfit ceiling and the false-ceiling layer along with the false-ceiling board acts as a thermal insulator, reducing the temperature of the room below. This procedure helps in keeping the room cool for a longer period of time, even after switching the AC off, thus helping to save electricity.
They aid in cooling the room temperature
Moreover, to its cooling benefits with an AC, false ceilings also help in thermal insulation. Again, the air-pocket in the concealed space is a poor conductor of heat, that prevents heat from passing from outside-in. This process aids in reducing the room temperature. Specialized roofing materials are available that further absorb the heat and keep the room cooler.
They help in resistance to ceiling moisture and dampness
Dampness and moisture quite likely enter the homes, especially in the coastal areas or in tropical regions or in old buildings with external cracks. While it is impossible to prevent it, one can still maintain ventilation and optimal air quality.
The false ceiling offers another layer of protection and resistance against ceiling dampness. This prevents sagging paint and dripping ceilings when rainwater penetrates via them.
---