An insight to Mumbai's hidden trove (part 1)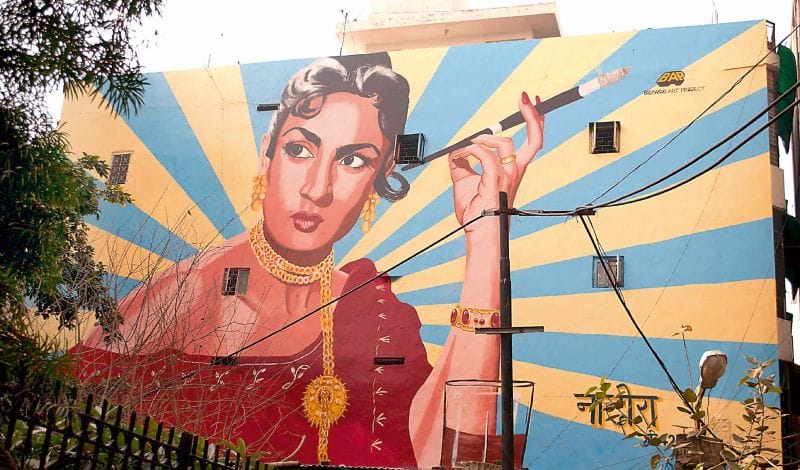 Mumbai, the city of dreams has many proverbs which follow its name. The city which never sleeps, the birthplace of Hollywood and cinema, the homeland of chaotic bazaars and fashion.
But there is one more thing which sets aside Mumbai from others, the hidden gem of art and paintings what she preserves in her heart.
But when this gem is crowned over the coronet of Bollywood it doesn't stop it from spreading its elegance across the lines of creativity and art.
We are talking about the India's largest mural painting in Bandra(Mumbai). At 120×150 foot it is the largest wall attempted by the st+art India foundation. The painting is delineated at the facade of MTNL building at Bandra reclamation, about 300 litres of paint was used just for the coating the building with yellow colour, thanks to Asian paints for the unlimited supply of the paint for this project.

This was the MTNL building in Bandra before the initiation of the project. You can see how this mammoth structure looked liked any other edifice in the area peeping through the rooftops of Dharavi slums.
The project took 10 days, 2 holding cranes and 800 litres of paint for its completion. The project was monitored by Ranjit Dahiya and his team.
This legendary mural painting portrays the caricature of the father of Indian cinema, Dadasaheb Phalke. He has the honour of making India's first full-length Hindi feature film "Raja Harishchandra".
The Dadasaheb Phalke Award, for lifetime contribution to cinema, was instituted in his honour by the Government of India in 1969. The award is one of the most prestigious awards in Indian cinema and is the highest official recognition for film personalities in the country.
Mr Amitabh Bachchan had the honour to unveil this legendary artwork to the world.
The painting still holds the prestige of being the largest mural in India and divulges the colours of Indian cinema to the world.

---