How to Make your Office Interior Lively with Wall Art
Are you all up to add that glam touch to your office interiors? Then roll your eyes over this blog as you will be finding some of the best information on wall art.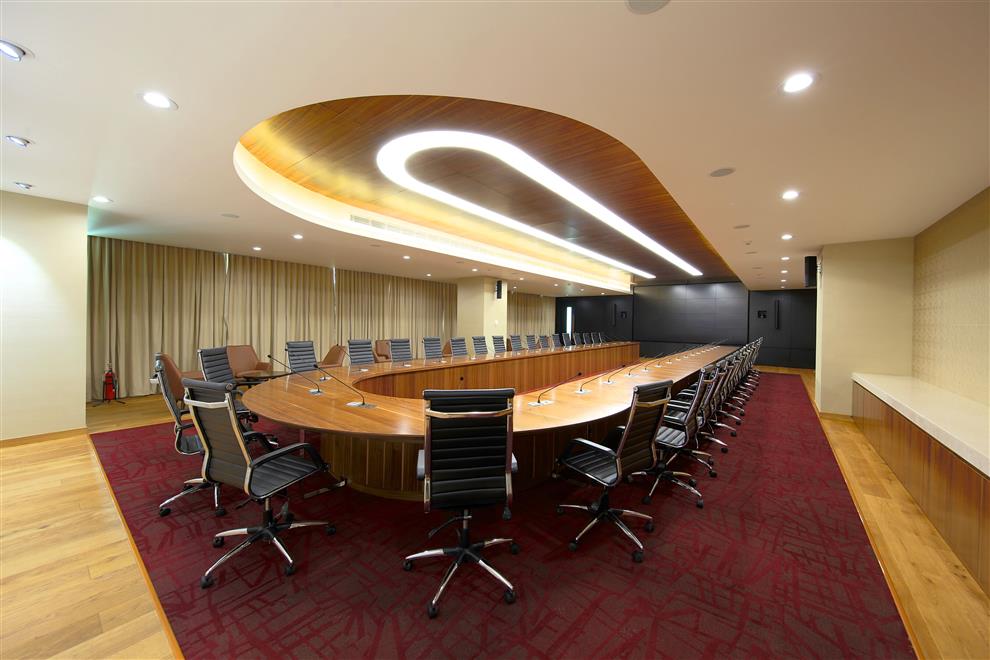 So what if it's the workplace… It doesn't have to be boring, does it?
Not only a basic office interior looks aesthetically unappealing, but it also makes working tedious and dull for all. Countless studies have left a stamp that including art in the workplace can have a lot of benefits—right from boosting creativity to minimizing stress.
And, of course, it woos the visitors, which can have many gains, including impressing the potential clients.
So, if your office misses that appealing liveliness, it's time to amp your game up with wall arts, welcoming wall painting and eye catching false ceiling designs. Here are few ideas to help you get the right start.
Take your time:
Many people rush through the process to get things done quickly. Don't be one of them. The right interior can virtually give your workplace a complete 360, not only in terms of look but also in performance. So, don't rush. Take time. And plan it all in advance.
Maintain a theme:
Unless yours is an office that's "too hip" or bold, you would want to limit the number of variations. It's like branding—even when your campaigns are different across channels, the message and goal almost always remain consistent.
Similarly, you want to maintain a consistency throughout the office interior wall arts. So, pick a theme! Modern, transitional, minimalist, Scandinavian or anything else—decide and then go with one theme that suits your needs and preferences.
Discuss it out:
Don't make all the decisions alone. Get together with the employees, managers, and everyone working there to plan everything together.
This is not only a nice gesture but also very important given the fact that different people have different preferences and ideas. So, since they will be working here for the better half of the day, they should have workplace wall arts that best fits their preference.
The many things to consider :
The interior designing needs quite a bit of thought and consideration. So, don't just cling too much on the art itself. Even the best and most attractive one can fail to charm if not positioned and sized correctly.
So, when it's time to install them, be careful about the size and position of the arts. Also, keep an eye on their color; you want the color to blend well with the wall paint and flooring.
Add a personalized flavor:
Sometimes to gear-up the office interior with a unique personality, you would need customized wall arts. So, if they don't fit your preference, don't settle for template-like wall arts. Go for the personalized ones.
Have unique arts created just for your office to better match your company's ideas, goals and stories.
To avoid redundancy and to keep the interior dynamic, even with the same theme, it's best to install different art works in different rooms. Here are simple tips to hit the chords correctly here:
Different delights for different rooms
Common Space

It includes corridors, stairways, cafeterias, smoking area and relaxes zone. Aim to keep all these spaces animated that lifts everyone's mood.
It's okay if there are many variations in forms and color.
Corridors and stairways are the best space to install large wall arts.
Again, get together with everyone and include their preference here.

Reception area  
Have artworks that introduce your company's culture and philosophy to the visitors. Also, use the space to boast about your achievements subtly.
The backdrop of the reception table is the best space here to catch visitors' attention.
If the seating area is decently big, install the artworks in front and side walls to keep those waiting engaged.
It's best to keep the interior outlook in the reception area minimalist. Too many (and big) artworks can overwhelm visitors.
Be careful of the color. Aside from the wall paint, ensure the wall art contrasts well with the furniture. 

Work Area

It's best to keep things distraction-free here.
Have minimal artworks that feel positive and happy.
Avoid popping colors and choose something subtle.
The art must be in sync with cabin owners' ideas.
Go for small and medium-sized frames. Nothing big!

Conference Room
Abstract artworks are great for the conference rooms to break the ice with easy conversation-starter.
Highlight the company's goals, ideas and visions through the artwork.
Say no to the big artwork. The medium-sized frames are usually the go-to.
Install them away from the presentation area so that they don't cause any distraction.
Have them on opposite walls so that they are visible from the seats. It's your best position.

***
Aside from caring what happens here, more and more people are prioritizing how the workplace looks. So, don't lag in this trend and stay stuck to the outdated interior. Give your employees (and visiting clients) another reason to love your company. Stand it out with unique and thoughtful wall arts. We have experience in working with multiple interior designers to help execute a customers office without compromise in quality and within budget. 
Some of the latest trends in office designs: 
---