Light Up Your False Ceilings For A Sauve Modern Look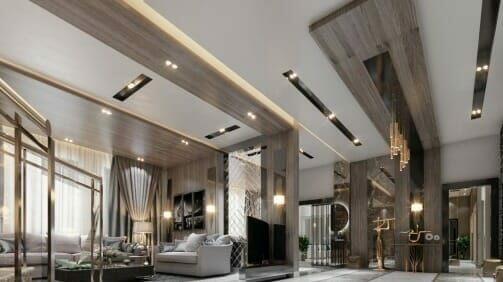 So you've decided to install beautiful false ceilings in your space, what's next? Choosing your false ceiling lights. It is an excellent way to improve the aesthetics of your house. These lights, in addition to illuminating the room, help to create the correct ambiance in the surrounding area. Unlike tube lights or utility lighting, false ceiling lights illuminate the room in a unique way. False ceiling lights, in addition to providing general illumination, provide personality to the room. Also, highlight the beauty of the space, and have a significant impact on the spirit you experience in the space.
Why False Ceiling Lights?
While you can hang different types of ceiling lights like chandeliers, pendant lights, and wall scones without using a fake ceiling, the installment of artificial ceiling light designs significantly adds to your false ceiling design that mere decorative lights can't. Recessed lights, flush lights, and other false ceiling lighting solutions enhance the room's beauty and impact. Furthermore, the advent of modern and ambient lighting options in the market and a fail-safe way to make the space brighter and more energy-efficient.
Source: Divani&Sofa'
There are various modern ceiling lights that fit into any type of home decor, and you can choose these light fixtures from a wide variety of color choices, shapes, sizes, and styles. The best thing is the value they shall add to your home while making it look pleasant and attractive. They also come with a long life expectancy which makes them very cost-effective. If you want to install a false ceiling in your home that meets these requirements, read our blog on Best False Ceiling Designs.
While false ceiling lights are most commonly used as interior décor, they can also be installed to fulfill specific functions– reading light fixture, track lights, ceiling light, task lighting, lights for ceiling fans, etc.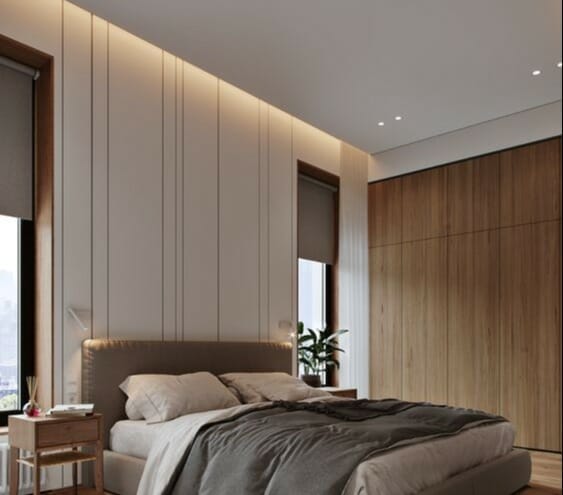 Source: Behance
Most homes often need a stylistic lift not simply as a functional solution, but for its ambiance. Accent lighting is the most luxurious option, used for a dramatic effect. These decorative lights, coupled with sophisticated colors, create a mood and atmosphere that would otherwise be impossible, such options are most effective as modern ceiling lights. To add more drama to this fixture, you may use white light or other brighter light bulbs.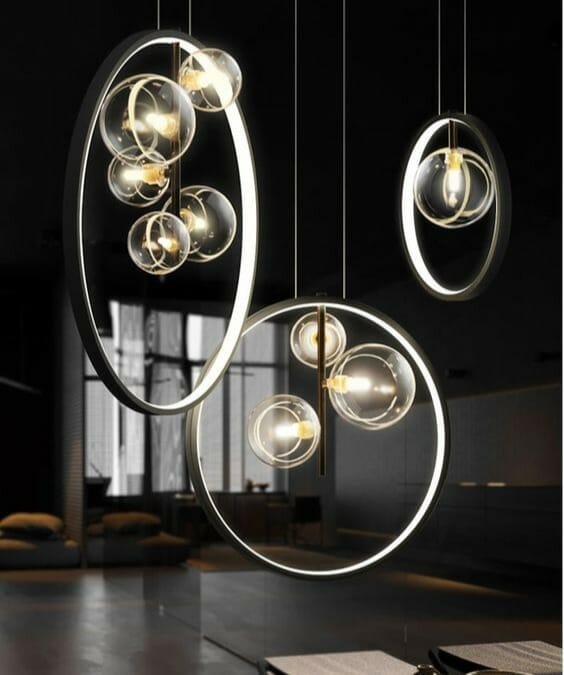 Source: Etsy
#1 Suspended Lights
A suspended ceiling light is one of the most popular false ceiling lighting options. This kind of lighting has been around since the early 1900s and is generally made of metal and glass. It consists of a light fixture and a trim. You can find a wide range of suspended ceiling lights, including chandeliers, pendant lights, and track lights.
Chandeliers
Chandeliers are a classic choice to add character to another room in your house and make a big impression. There is an expanding array of chandelier designs today, ranging from modern, contemporary, and transitional styles. These fixtures can be customized to your style by changing up materials (nickel, brass, copper, iron, glass, etc.) and lights (white light, warm white light, brighter light options), giving you the ideal chandelier for your false ceilings.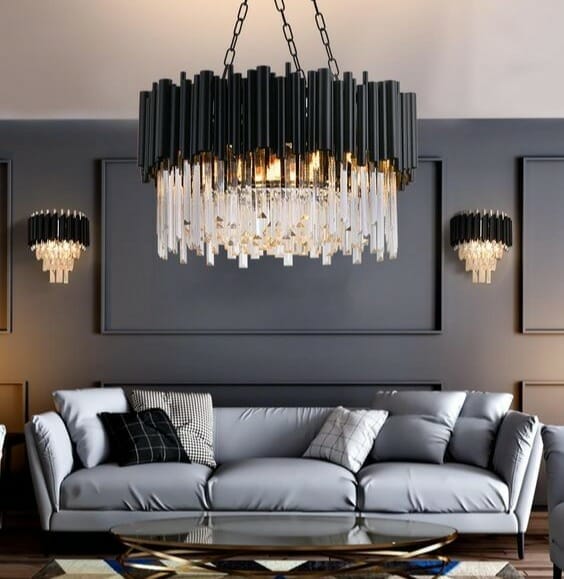 Source: HomeezGoods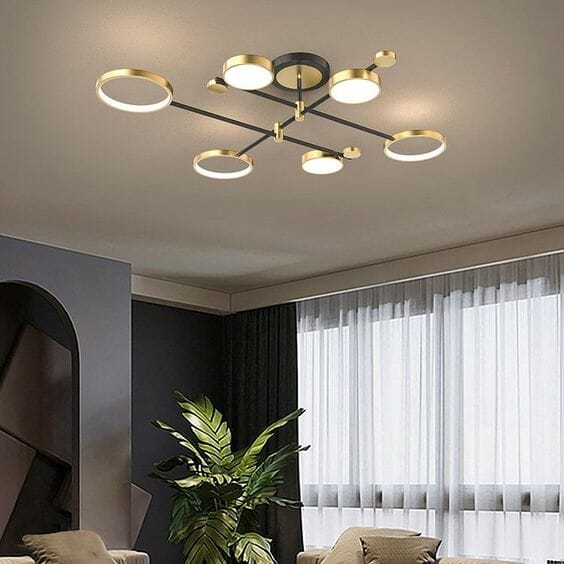 Source: Homary
Pendant Lights
A suspended pendant fixture consists of a ceiling rosette, a suspension cord, and a lampshade finished in shade, partial hues, or left bare. Usually suspended over kitchen islands, dining tables, etc. These can be hung in multiples, or you may buy one linear one for a minimal look. Pendants are available in various shapes and sizes, all you need to do is measure your cords and hang an Led Bulb of your choice in there.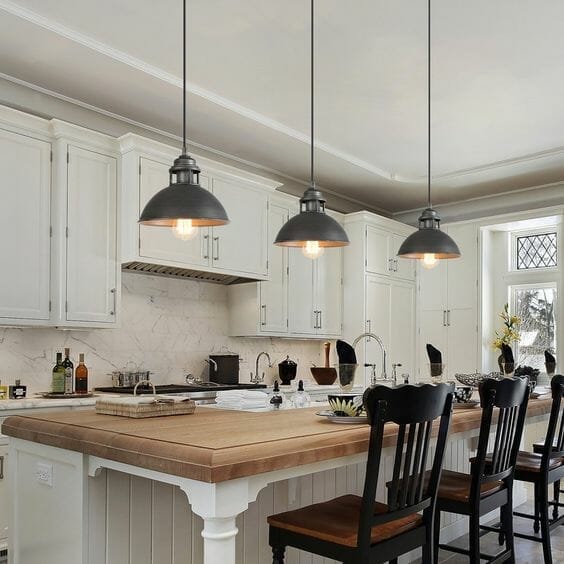 Source: Overstock
Track Lights
This accent lighting configuration is ideal for art galleries and museums because it gives optimum illumination that can illuminate the entire wall while also focusing on a specific piece of art. Track lighting may be ideal in drawing attention and specifically illuminating particular architectural details and wall textures (like these ones from royale play).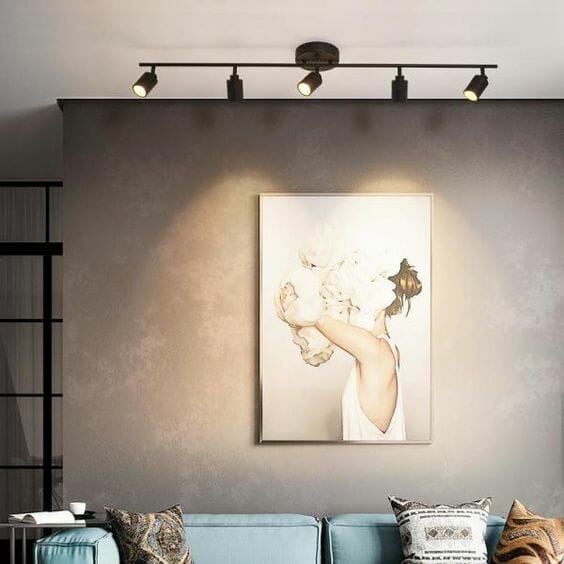 Source: Home Depot
#2 Recessed False Ceiling Lights
Recessed lighting is a great way to illuminate a space without having to put holes in the ceiling. LED Voltage lights and LED strip lights are most commonly used here. This type of lighting is usually recessed into a false ceiling, so there's no visible hole in the ceiling. The recessed lighting fixtures are the best choice for rooms with limited ceiling space or where a large luminaire would be cumbersome.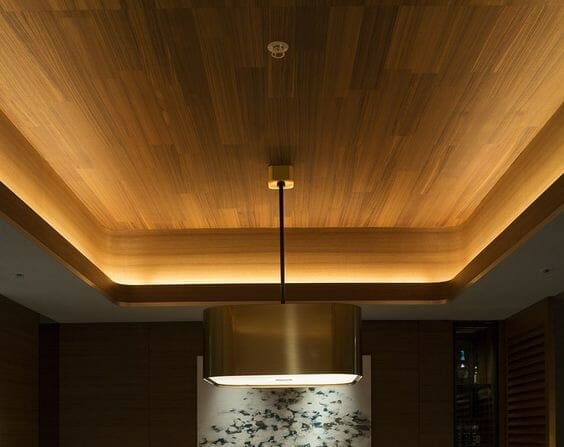 Source: Worktecht
Cove Lights
Do you want to create a warm atmosphere in your home but don't have the budget for expensive lighting fixtures? Then look no further! Cove lighting is perfect for creating a cozy ambiance without breaking the bank. These types of lighting fixtures are inexpensive and can easily be installed in any room. If you want to add a little warmth to your home then consider installing a false ceiling with cove lights.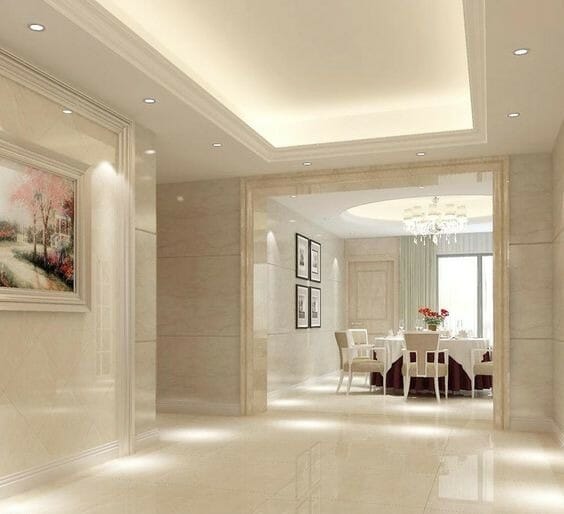 Source: The LA Shop
A recessed light consists of two components – the housing and the trim. The housing is recessed into the false ceiling and consists of the light source, mounting, and wiring, and the trim is what visibly gives it its aesthetic.
#3 Flush Lights For Your False Ceilings
When your ceilings aren't high enough for suspended ceilings, and recessed lighting options are too expensive for you, Flush Mount Lights and Semi-Flush Lights are the perfect solutions for you! Flush Fixtures are adaptable, take up little space, and come in a variety of designs and finishes.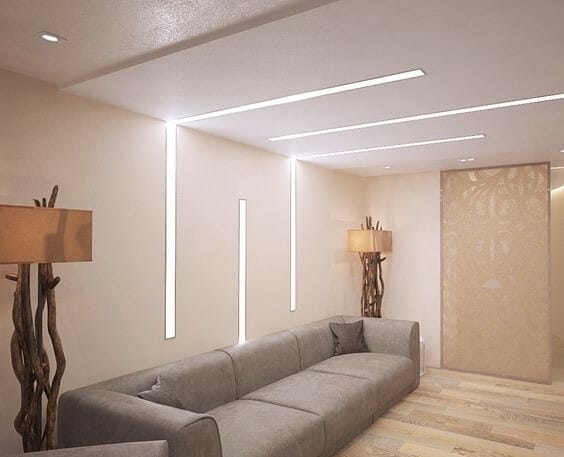 Source: Primo Gatto
Based on the effect that you intend to create with your lighting- like a wall-washing effect or an ambient or spotlighting, you may install your recess LED lights in any way.
The most commonly used methods of lightening are categorized by the mounting process and exposure of the trim. These installation methods are:
– Internally mounted lights
– Externally mounted lights
– Surface Mounted Lights
– Hanging Recessed Lights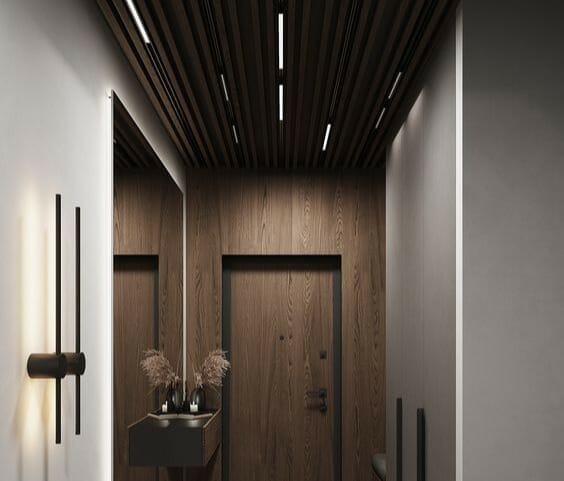 Source: Behance
---