20 Luxury Wall Texture Designs from Asian Paints for Your Home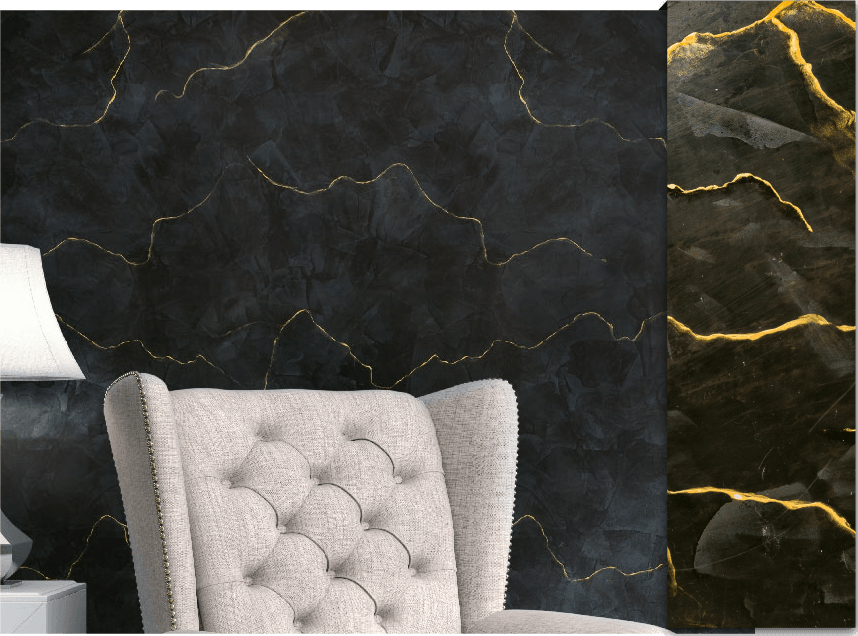 Your home is the representation of "you", don't let it convey the message otherwise. We all love a vibrant and a comfortable space; texture painting lends a hand here. A wall well decorated with paint may look beautiful, but textured wall painting or wall texture designs is the one that catches one's eye. But first let us tell you more about texture painting, to make a beautiful home-
Texture painting is on the artistic side of the home and décor; it feels like a live canvas on your wall. Paint is inclusive but with the addition of few more materials like metal, ribbon, wood, sand and lace. The wall texture design inactivates two senses, sight and touch. There are four types of texture paintings.
Types of Wall Texture Designs
Actual texture: this type of day to day texture paint is a combination of the design looks and how it feels. It includes rich colour build up like impasto effect and addition of material. Most common textures include: rough, wet, bumpy, fuzzy, scratchy, gritty, soft, lumpy, hard, liquid, solid, sticky, dusty, sharp etc.
Simulated texture: in this type of wall texture design, an illusion is made. The faux texture is when the painter draws a visual effect without actually adding it. It is like when the paint is used to look like something else to create an illusion of something that isn't really there – like wood, marble etc.
Abstract texture: Like in paintings, the conceptual texture wall design doesn't convey what is connected with but would send the message in a textured pattern or design. These are famous for exterior wall texture designs for your garden and entrance.
Invented texture: this type of wall texture painting is an exciting way of adding your personalized touch. In this, you can add different materials together or alternatively to make your space feel like home.
Needle texture: a distinct way of wall texture painting; in this, creative lines of colours are made in patterns to form an image.
Luxurious Texture Paint Designs
FreshHomez offers you a wide palette of wall texture design of hundreds of texture paints and designs for your home. From all the trusted brands to keep your home unique and luxurious, listed here are most of the trendy textures. pick any from the wide variety available on list of wall texture on our website to give a fresh look to your home.
Classic wall textures
Keep things vintage yet straightforward with the touch of classic wall textures. Opt for "Antico Classic" for a deep, soft glow to your space if you want to add a minimal touch of texture. This type of design mostly goes with the bedroom or bathroom.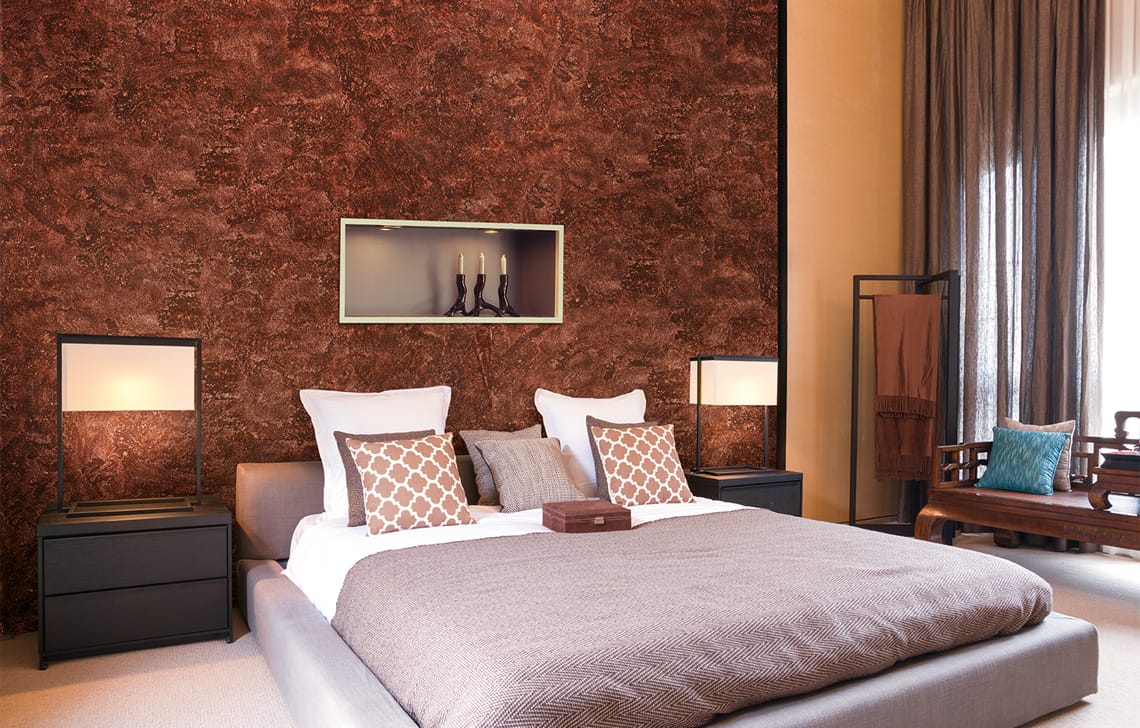 Yes to lines
Nothing expresses sophistication better than lines. If you have a studio apartment or a small space and want to give an illusion of height, go for "Antico Linea". This type of wall texture design will add dimension to your walls and taste to your home.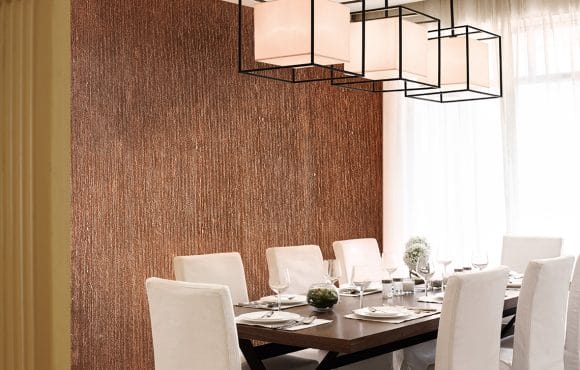 Uneven is the new even
The modern artist is the one who appreciates the uneven art, "Archi-Ferro" will give your home an uneven yet mesmerizing touch. Go for wall texture paint or white texture or wood wall texture of your study room, kids room or kitchen to attract new ideas. You can also experiment with flower wall texture with base colours with an artsy touch for a classic accessory look.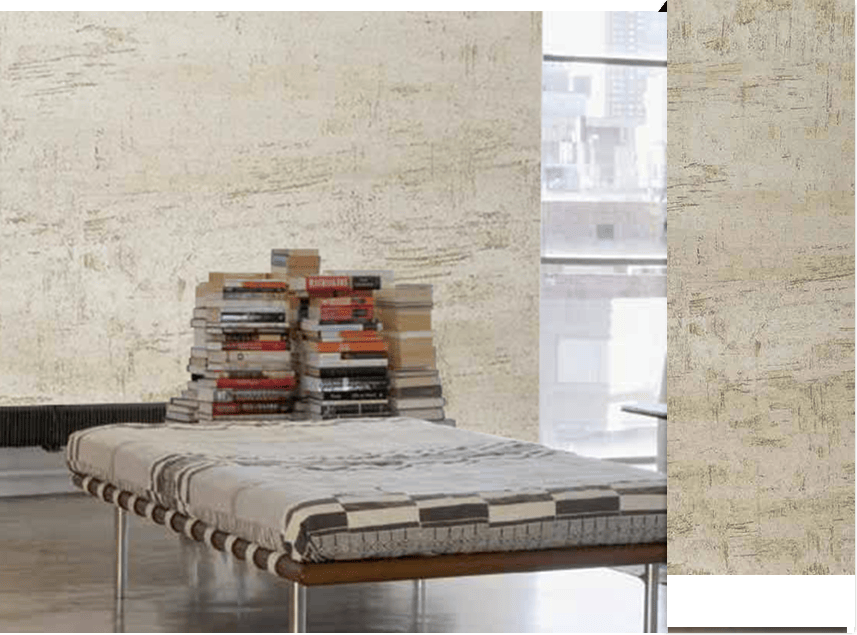 Concrete like you texture
A palette of natural tones and a strong effect is what your living room needs right now! Opt for Archi_Concrete" premium wall texture design or Background with Cement Texture to create a raw yet slick look design for living room. A stone wall texture with suitable base and wooden panels on a flat wall is also a great wall textures design.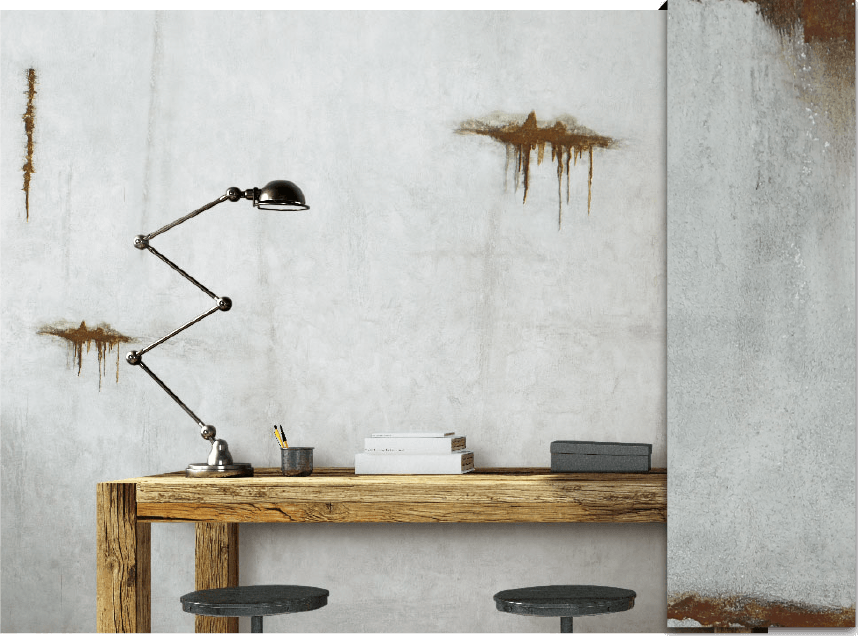 Minimal Cresto
We love peace and serenity, and there is no place like home to be comfortable in. With "Cresto" beautiful texture design images on your staircase or in the outer walls of your garden, you can feel peace of mind.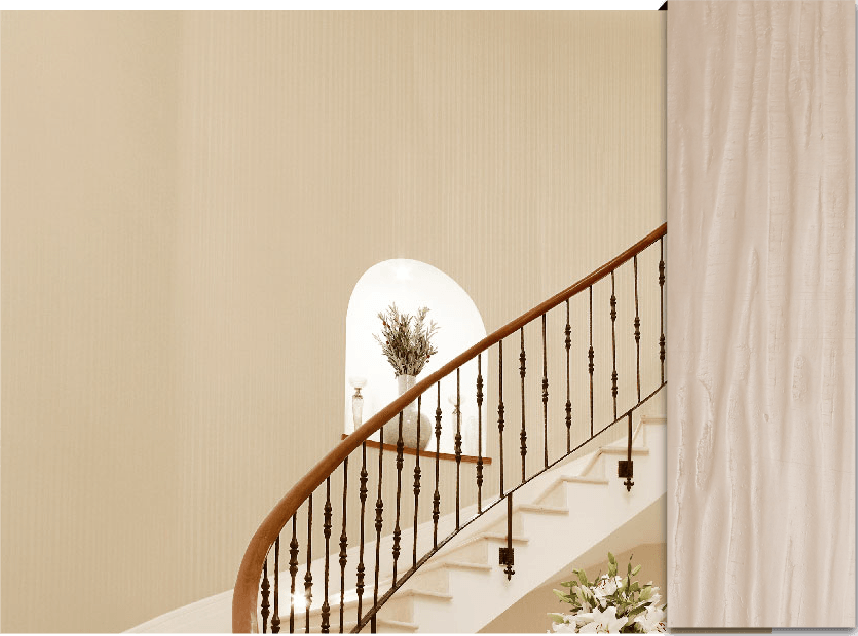 Royal hues texture design
Gold is the touch your home deserves! If you love a touch of royalty and heritage, "Gold-leafing Midas"  texture paint design images is the choice for you. Available in copper, gold, bronze and more, it will transform the look of your dining room, staircase and hall.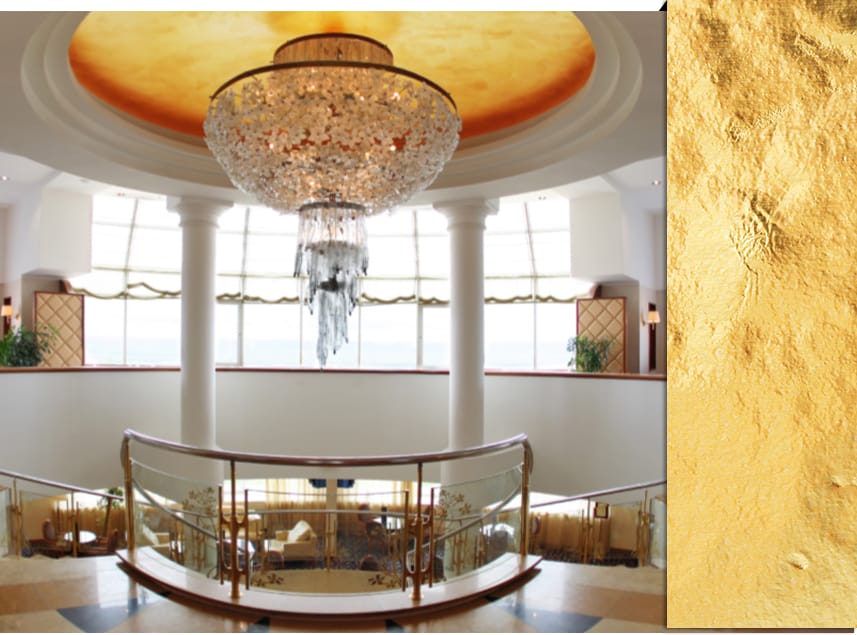 Rustic view wall texture design
The poet in you will come rushing out as you witness your new home wall texture paint design in "Ironic". A mix of urban wall painting with a touch of history will keep the compliments flowing. Use Bold Colours or textured surface for the designs for living room.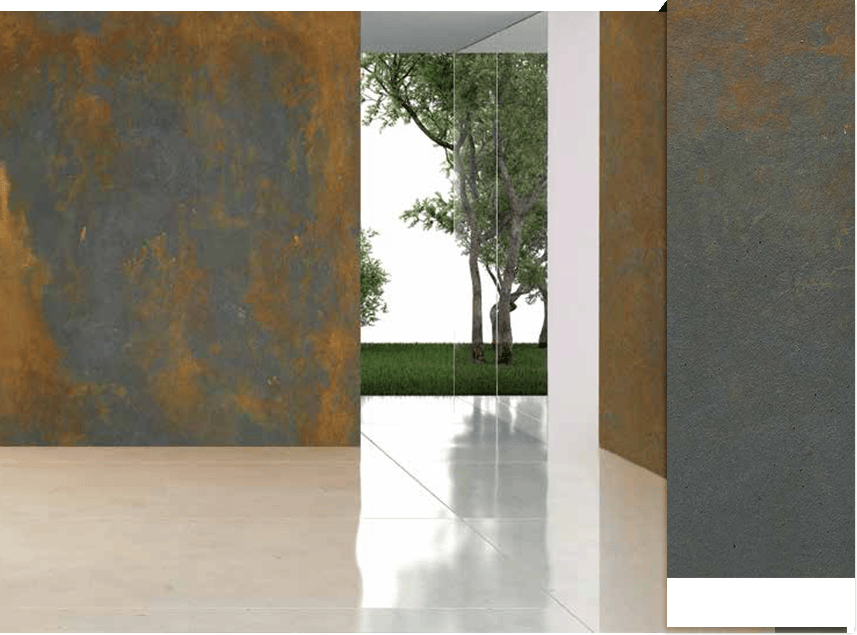 Show off your glories
An exquisite pattern of wall texture paint design that makes you visit the memory lanes, "Marmorinoks". The walls of your home will speak about your love for past culture with a soft glow. Add an accent chair with variety of artful installation to add to the beauty of the country style bedroom.

Trendy while unfinished texture
"Metallico Verdi" is an art inspired by the concept of "left for you to complete and comprehend". While it speaks volumes about oneself, a beautiful wall texture design is a perfect match for your study. Add a bit of 3D tiles, neutral tiles or Abstract Marble Texture along with false ceiling to finish the look.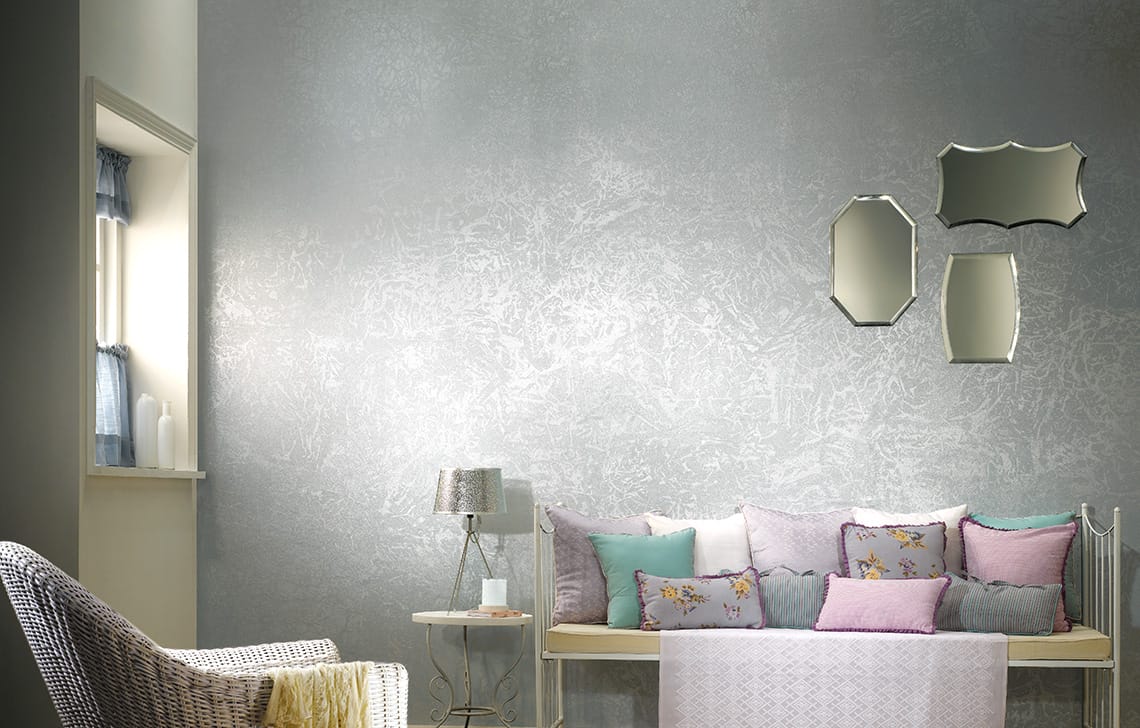 Gentle texture paints
Another peace artwork texture for your wall, "Nuvo". It is created to speak to you in peace and give you the feeling of harmony—a perfect match for your bedroom and Pooja room. An alluring wall texture idea with a background texture design element will give an impression of classical living.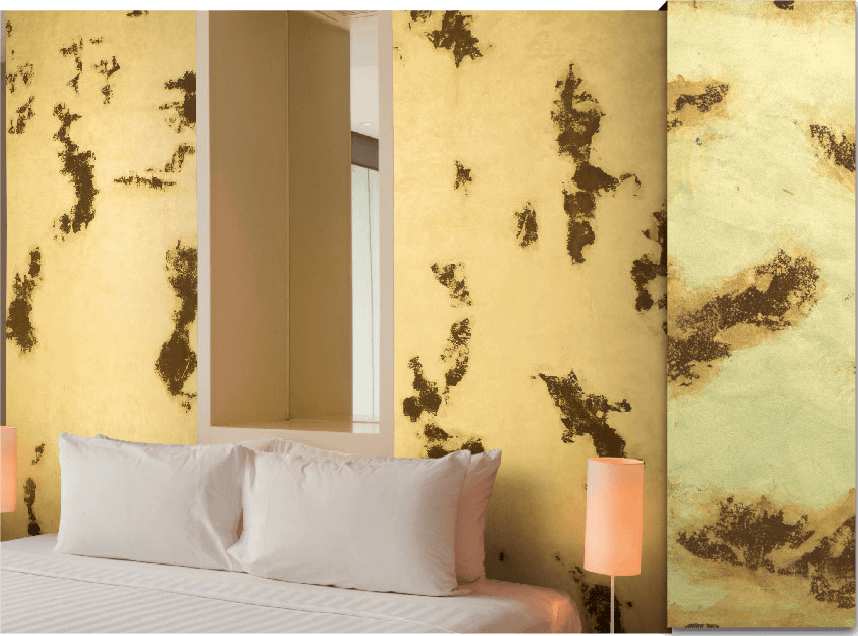 Alluring imperfections
"Orolina" will make your home go from zero to a hundred real quick and with just a few touches of the Brush. Just like Kintsugi , the Japanese technique of repairing broken pottery with gold, it will turn your home into a piece of art. This is kind of king among wall texture designs. It provides a luxurious marble finish texture without the pesky lines you see with actual marbles!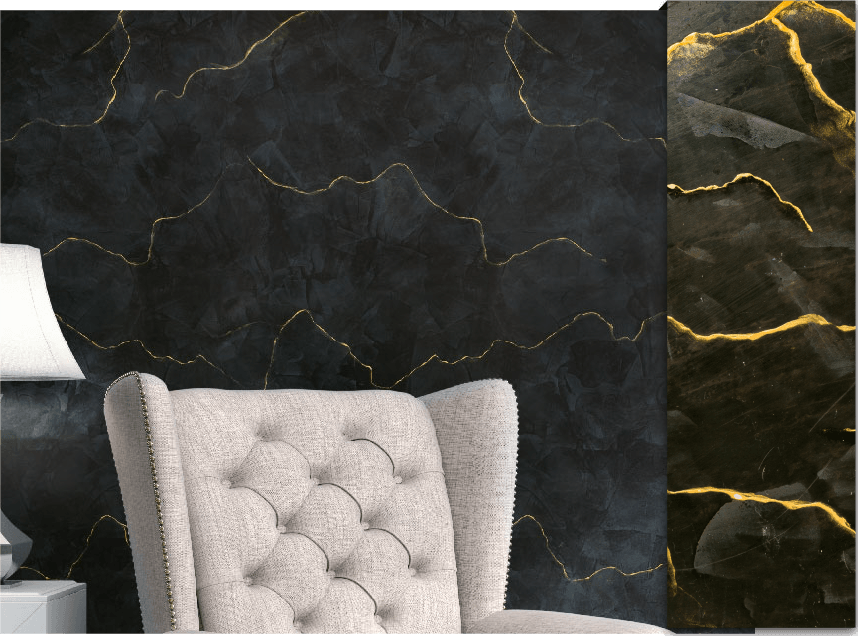 Italian touch wall texture design
Food isn't the only contribution of Italians to us; the mama-mia wall textures are awaiting you. "Rivoletto", the premium wall painting design will make every eye turn to the textured wall of your living room and dining area.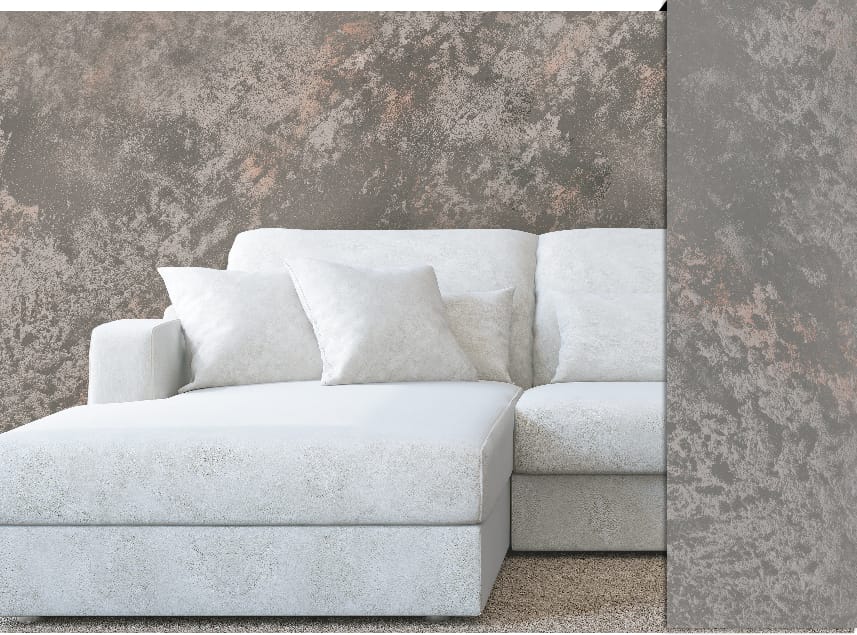 The below are the classics from the Asian Paints Royale Texture Paint Designs. They are age-less and have a huge fan following. They serve both functionally and a huge uber-feel to the space. The Royale play design catalogue is one of the best collections out there.
Wooden texture effect
Nothing speaks "class" and "chic" like the wooden design on the walls."Scorza" is the preferred wood texture paint that takes you to the natural blends of wood in your fireplace or study. An accent wall with a range of colors in the opposite end will have a beautiful finish.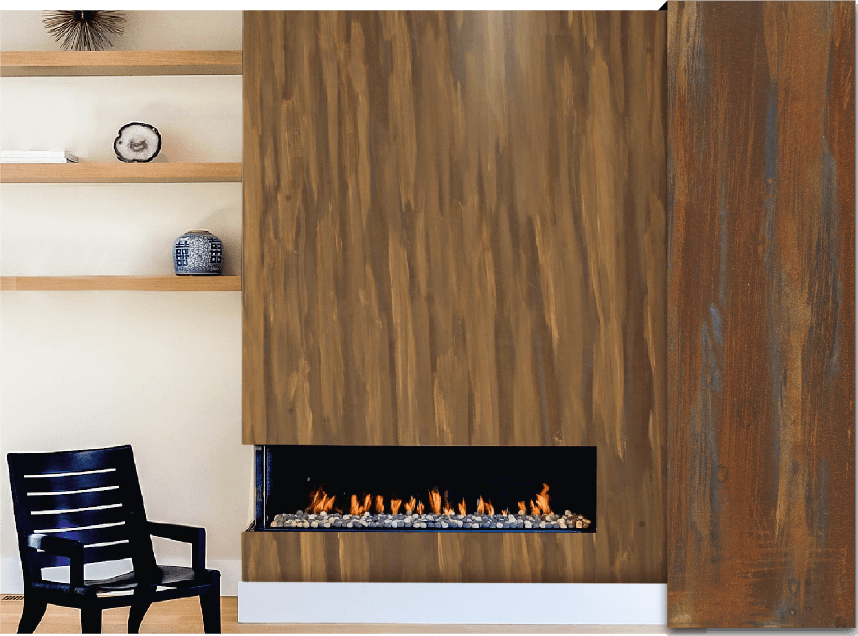 All the stars for you
"Stellato" will make your travel between and along with the stars every night. This type of wall design and texture material in your kid's room will help them understand their creative area and will have a visual appeal.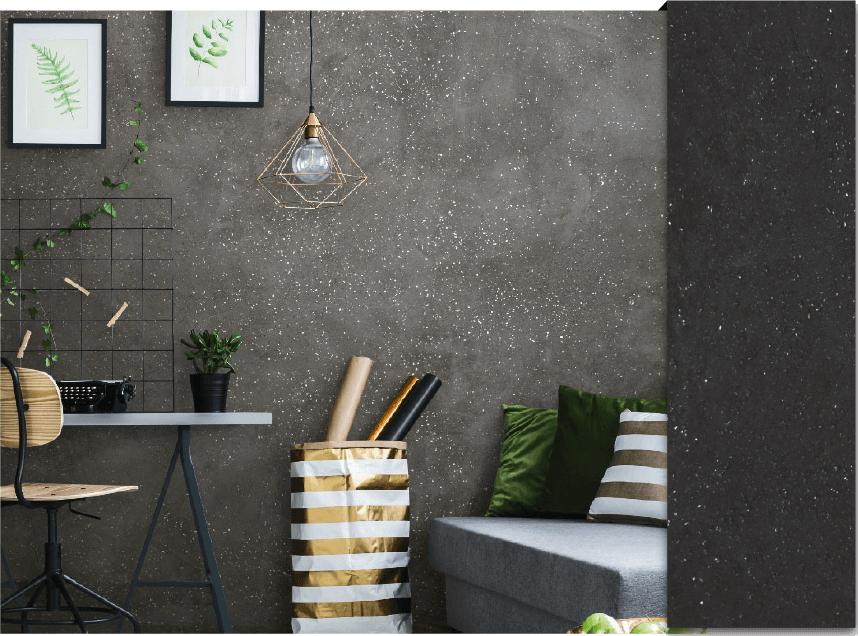 Metallic texture goes a long way
The industrial look is the new minimal aesthetic. "Infinitex Fresco" will help you achieve the goal of having an old yet aesthetic look for your home with a creative touch. This look will compliment your cosy living room or bedroom.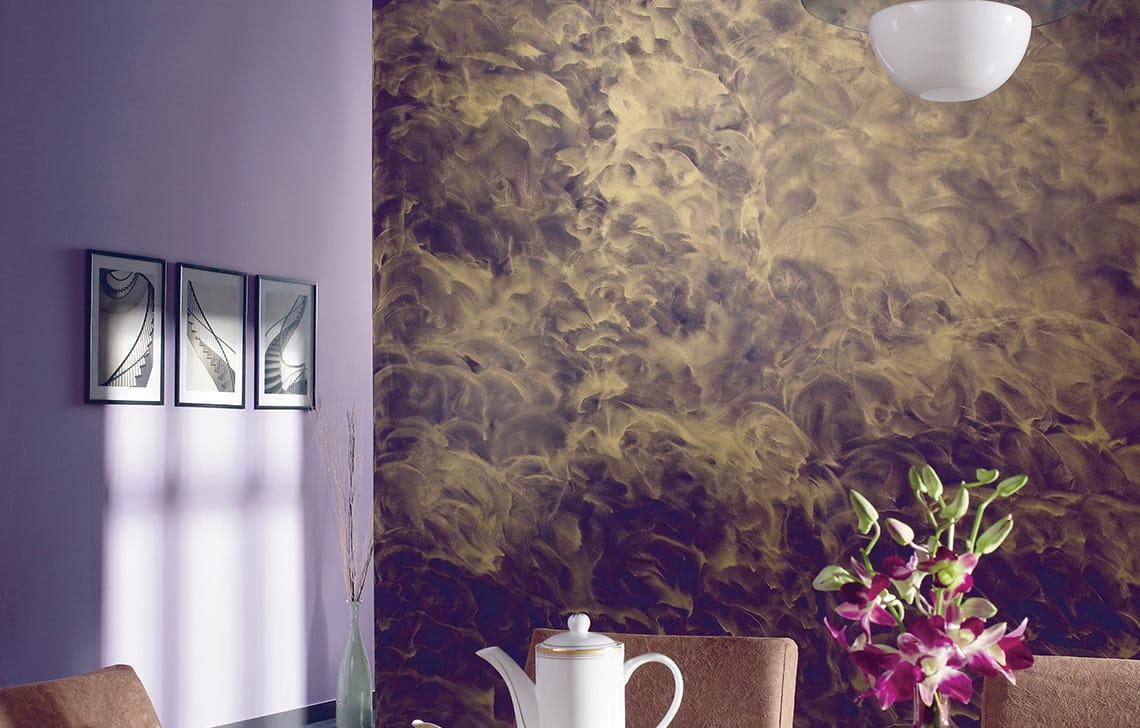 Lush Oak
The warmth and beauty of Oak in your home will make it the safest haven. "Infinitex Oak" with white walls will give just the look to your kid's bedroom to make them feel safe and comfortable and as the world is full of possibilities. Color For Texture Background will create beautiful Living Space. You can also go for Brick Wall Pattern Texture for the bedroom texture inspiration.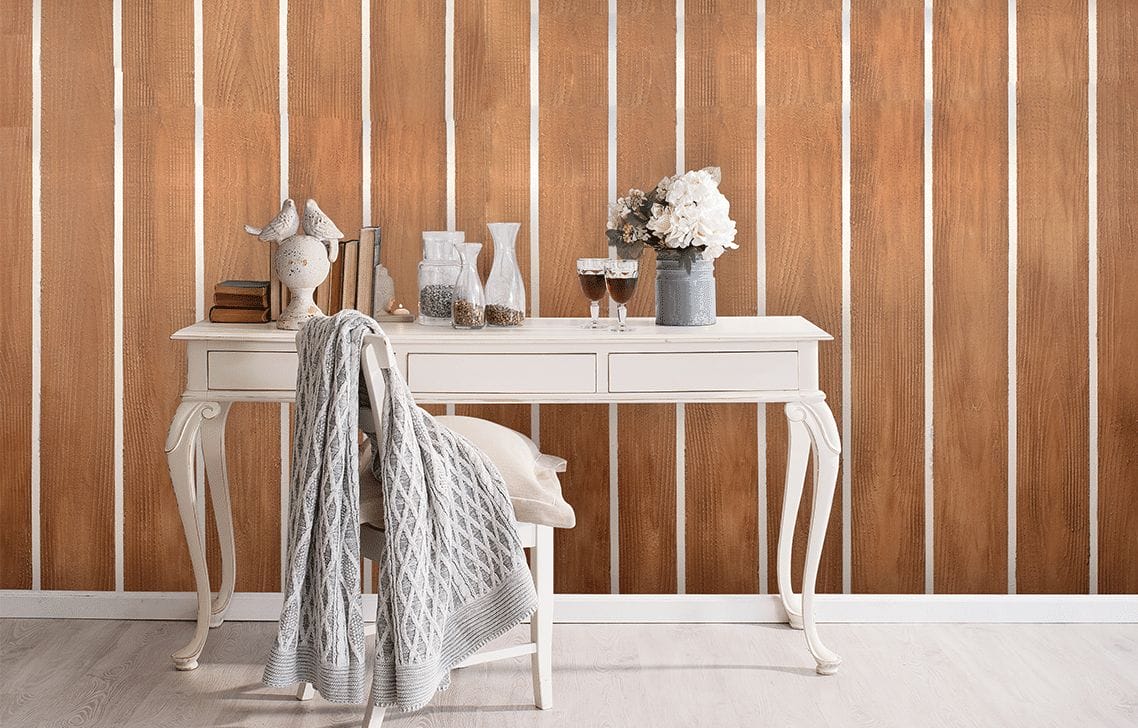 A mix of two worlds
In this type of wall texture, you will blend classic and contemporary with "Wall2Floorbracade". With seamless designs and a wide variety of colour options, especially Bright Texture Color it is an ideal match for your living room, dining room or fireplace. If you are a wall design lover, add different wall hangings for a soothing effect.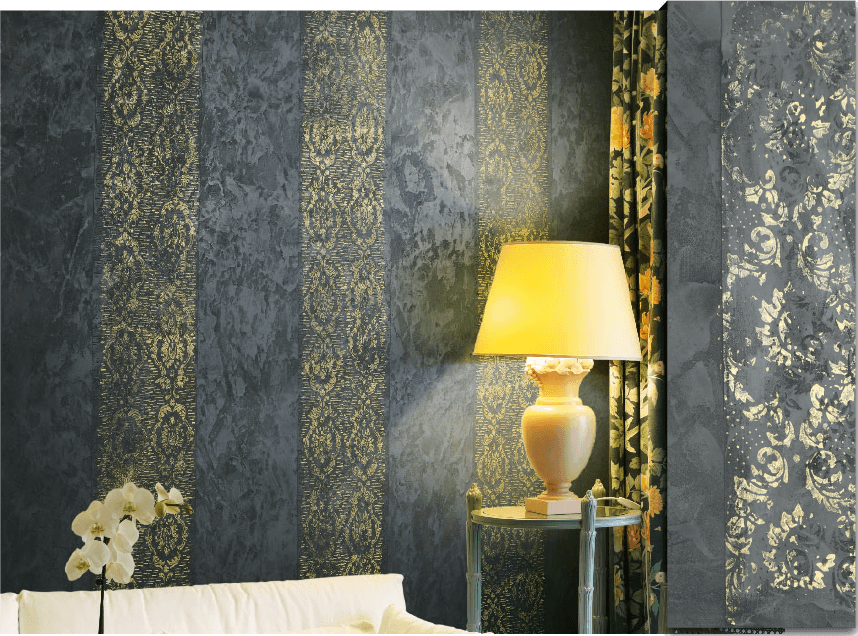 Splash with Brush texture design
To keep your home young and cheerful, add a bit of splash with the brushstrokes in the pop colours. Go for "Metallics Brushing Splash" Brush Stroke Texture for your dining room and kids room, especially with the white walls. To have a deep knowledge of Architecture & Interior Design one has to have a keen eye.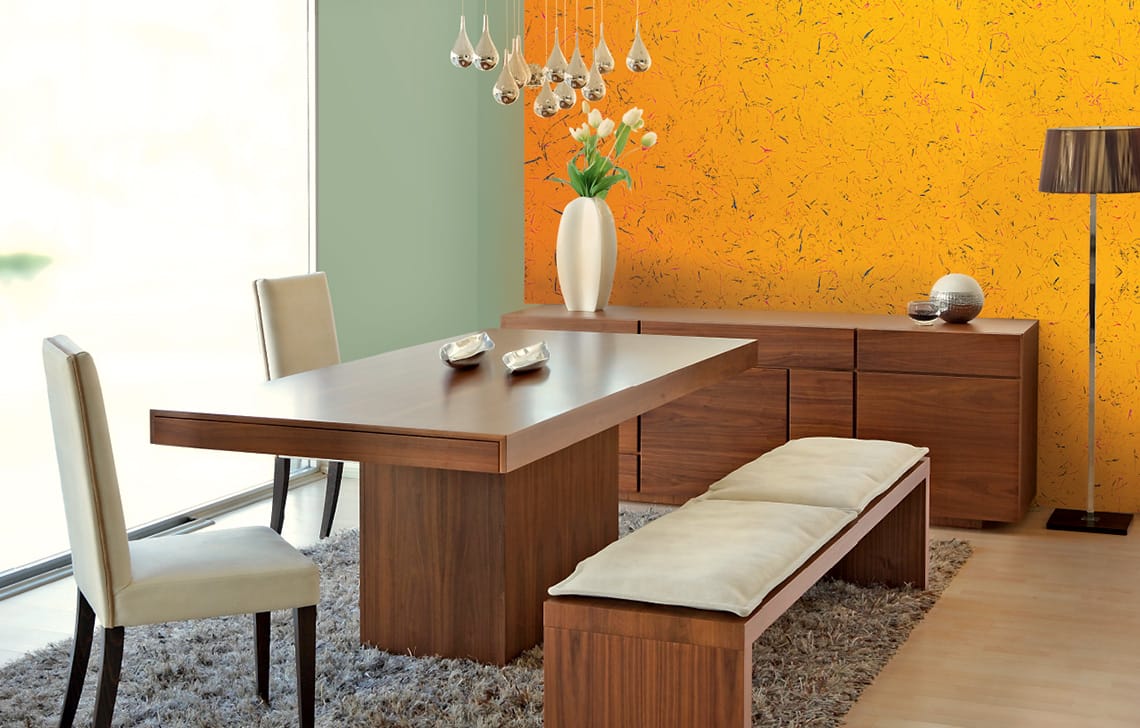 Your wall, your canvas
Unleash your inner artist and go Picasso on your favourite wall. "Metallics Canvas" is just the match for your an entire wall of living room, central bedroom wall or study to make it alive. With a blend of natural patterns and pop color palette you can get a beautiful design texture.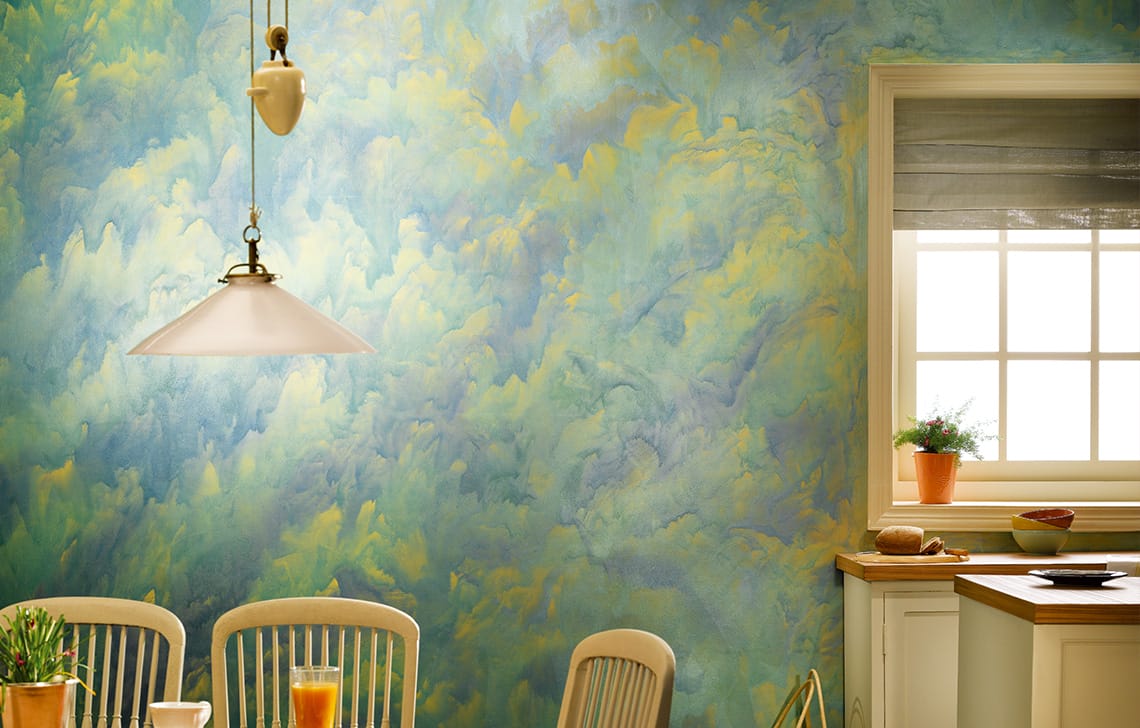 The sky is the limit
As said, your home is the portray of your thoughts; paint it in the textures of sky and Cloudy Texture with "Special effects colour wash" and give it an airy look. opt for textured paint or just a coat of paint and make a focal wall.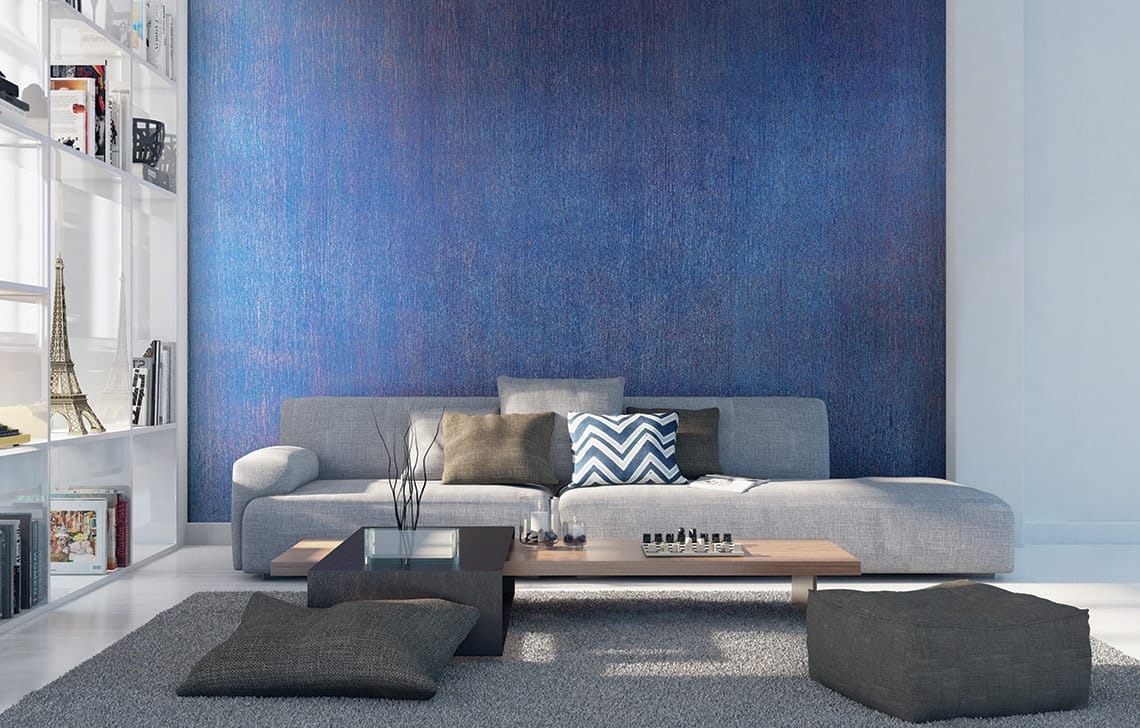 Texture Paints
Texture paint is a type of paint that is made for simulating the appearance of natural surfaces. Asian Paints, Oikos are the leading producers and manufacturers of texture paint, which can be used for residential or commercial paints. Texture paint acts as an excellent addition to other types of paints, such as acrylics or latexes, because it adds a more luxurious appearance to the surface that it's being applied to.
Do check our wall painting designs webpages for more choices and wide range of paint color shades to make your home more eye-pleasing. We offer several other products and advice, so don't forget to check our sub sections. We pride in providing the best quality execution and wide option of colour schemes. Contact us for best texture painter 
---