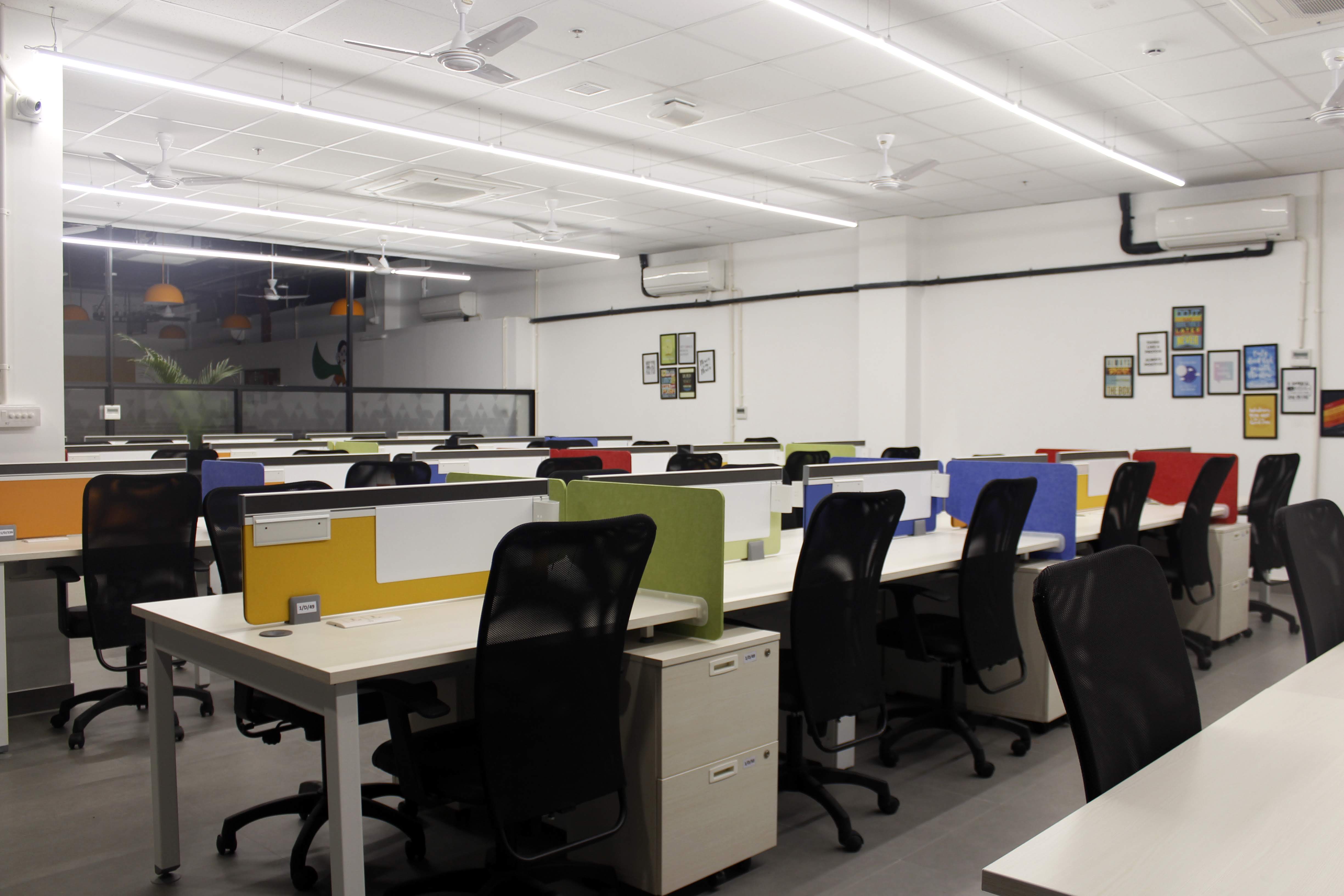 Whether you are a hospital, restaurant, school or a regular office, get long-term support for your painting & repair needs - across cities! We guarantee high-quality painting finish along with thorough covering and cleaning at competitive prices. We maintain the documentation, calendar of your jobs, shades & products used, so you can focus on your work; and leave the painting to us! Marquee clients like 91Springboard, Apollo hospitals, Smartworks, DYWorks will attest to our claim!
Besides, we offer industry-first solutions like anti-graffiti, write-erase coatings, anti-scuff mark coatings from niche brands for giving a fresh and healthy environment to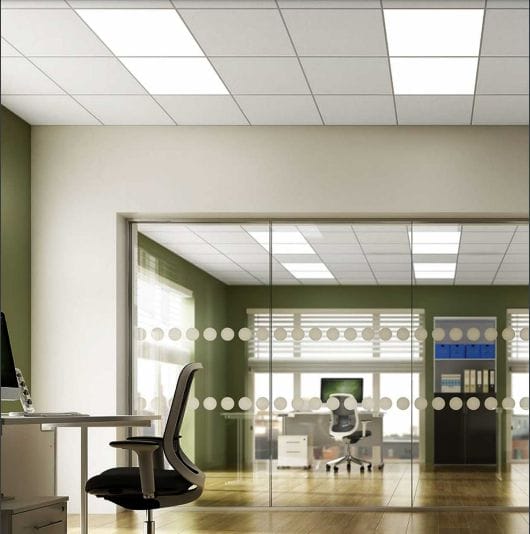 Grid Ceilings are the de-facto false ceilings used in offices. They are normally 2*2 ft mineral boards that are 'placed' on top of suspended channels. They allow for quick and easy access to the utilities like electricity lines, fire lines above the false ceiling fitted to the soffit.
Armstrong and Ecophon (from Saint Gobain) are the default branded choices, with a huge variety of other brands available in the market. But one must note that there are a dozen different products available even within these brands with different quality properties for different applications - moisture resistance, noise reduction, sturdiness and load bearing strength are a few important ratings a discerning client must ask!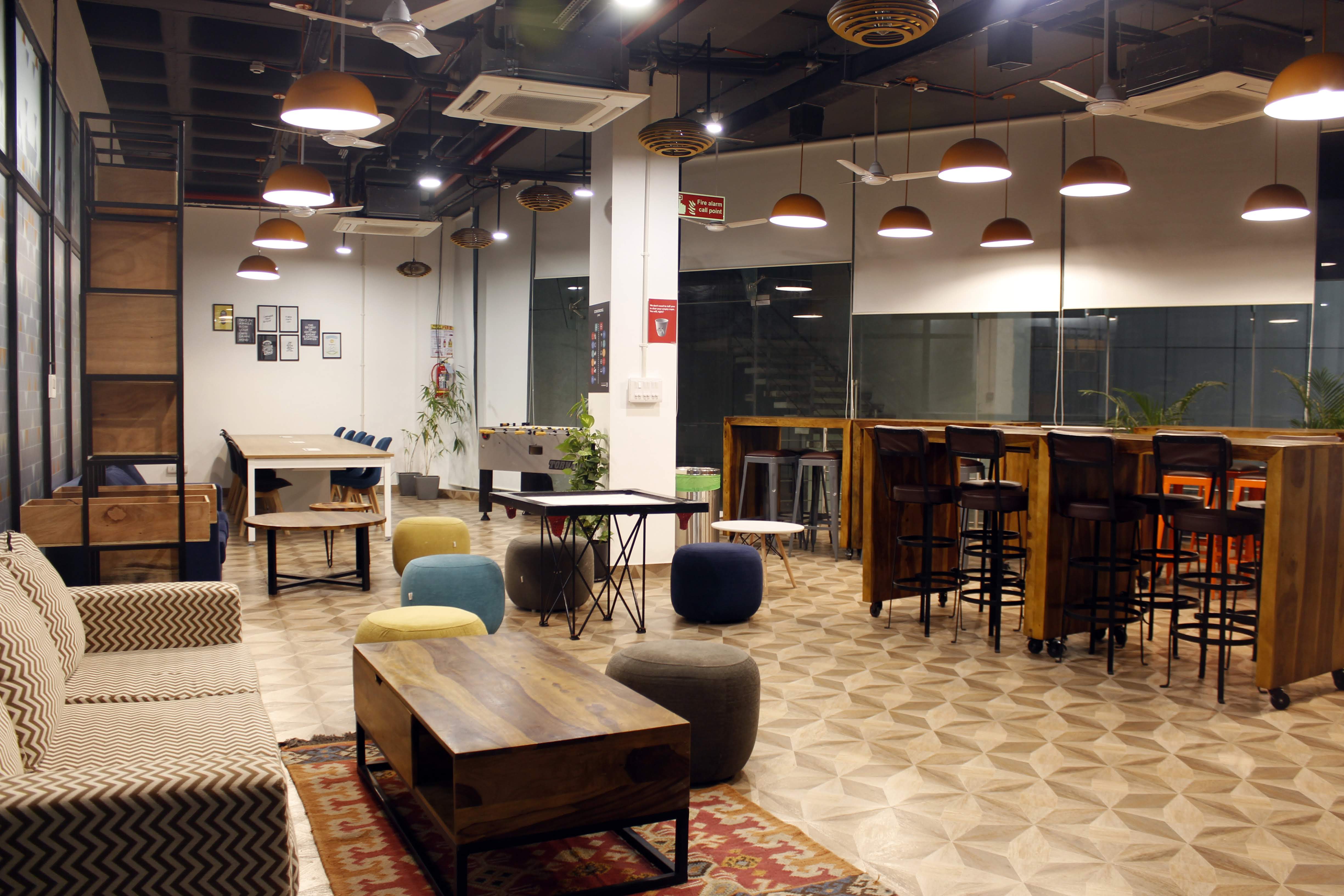 We assist clients with their regular maintenance of walls, ceilings along with their waterproofing requirements as well. We can customize solutions to individual building requirements. Whether you are a hospital, restaurant, school or a regular office, you have regular requirements to maintain the upkeep of your premises.
Newer solutions like anti-graffiti, write-erase coatings, anti-scuff mark coatings keep your walls pristine and healthy.
Why choose
Freshhomez?
1
Accurate Measurements
2

Best price Guaranteed
3
Expert Guidance
4
Hassle Free Service
5
EMI & Credit Card Payment Option
6
Thorough Packing & Cleaning
Asian Paints & Major Brands
Customer Reviews
4.6/5 (1000 + Reviews)
FAQ
Larger-scale painting jobs are called commercial painting. Eg. Apartment complex, restaurants, stores and office buildings.
Eggshell paint finish is usually recommended for office premises. The finish is more durable than matte finish and is less shiny than the glossy finishes, this provides an smooth and elegant finish best suited for offices.
Commercial painting is usually large scale, so they tend to have lower labor cost when compared to smaller residential projects. So if you consider the per sft cost, the commercial painting will have lower quote for the same material/ painting products used.
Commercial Painting Services for your Building
Commercial painting services will allow you to improve the appearance of your building. A worn paint job may convey a lack of care to potential customers, who may even choose to spend their money elsewhere. Maintaining the appearance of your building is an essential undertaking, and hiring a professionals organization for painting service and maintenance services can help you to take that weight off of your shoulders. FreshHomez is capable of providing all kinds of commercial painting contractor services like retail and apartment building painting, small repairs, and maintenance.
How does painting services increase the market value of commercial projects?
A new paint job can help to improve the appearance of your building. It can help a building look refreshed, nicer and newer with a fresh layer of paint - especially if the outer surface also sports a textured surface. The higher the attractiveness of the building, the more business it will attract.
How to ensure timely completion of Commercial Painting Project
Painting is usually a smaller part of larger construction and maintenance activities of commercial projects. There may be multiple activities happening in parallel, so the use of professional painters and experienced supervisors is extremely important for the timely delivery of a commercial project. Everyone wants their properties to have minimal future maintenance issues as the cost of closing a commercial space for such activities is high. Hence hiring a professional organization like FreshHomez, which can provide an end-to-end solution for your specific commercial projects needs is always the first right step. Here at Freshhomez, we are capable of completing commercial properties painting projects in time. We have experience in handling most types of paint products and waterproofing solutions, both expensive or non-expensive acrylic paints or Aerosol paints, texture paint or plain paint.
What is the use of hiring a professional service provider for commercial painting?
At the timer of hiring a FreshHomez for professional painting service or architectural painting services, we can guarantee that you will receive premium-quality paint finish, professional execution and timely completion. The improved appearance will help to create added appeal to your customers, as well as to raise the market value of your building. A professional service provider will provide these services quickly and according to schedule, with the least amount of inconvenience to you and your customers.
Off late our customers are preferring to use water-based paint jobs for their painted walls. It is a good option to guarantee the best results possible. Whether you need interior or exterior painting services or exterior surface preparation services, they are best accomplished with the use of a professional painting services company. We have also executed projects with epoxy coatings or masonry coating or specialty coatings for the walls.
Your commercial painting professional with "world-class" execution processes
At Freshhomez, we know how tough it can be to find a commercial building residential painting contractors who is reliable and can deliver professional service. That is why our painters coordinate closely with businesses to understand their commercial figure painting needs before any painting project. We then work carefully to make sure those needs are met at each and every step. Also we provide free color consultation whether it is pastel colours or vibrant colors, we have a repository of projects data for helping our customers.
We undertake commercial painting job services adapted to the wide range of project goals as desired by our clients. Our services cover everything from fine detail abstract painting to budget-conscious, volume-based projects. Additional services include color consultation, warranty sourcing from brands, waterproofing services, and false ceiling services. Before beginning work, we will plan your project with you to make sure the right paints, methods, equipment and finishes are used to achieve the results which you are looking for within your budget.
Freshhomez is also very conscious of turnaround concerns – especially for the workplaces where a painting project can interfere with a day to day business. Our painters are committed to keeping your project on schedule and will coordinate your project to make sure minimal disruption to your regular operations.
Every Freshhomez painting location is fully insured and staffed by skilled painters who will respect and protect your workplace throughout the commercial painting Inc process. We source and use paints and finishes from trusted brands like Asian Paints, Berger Paints etc., and we paint using careful step-by-step methods that make sure a smooth, drip-free and consistent finish.
Professional painter for getting professional commercial painting services
We are not just a residential painting services company. We undertake commercial paint jobs too! No matter what the size of your commercial space or type of painting job needed – whether it is a single room or an entire office building – Freshhomez will complete your project on time with fresh coat of paint, and on budget, without totally disrupting your workday. So, are you ready to see how we will provide you with an amazing experience for your business?
Different types of Commercial Building Project Painting
We will get the job done fast. Now you don't need to worry about painters that take weeks to finish the job, or cause property damage, or disappear in the middle of the job, or do poor work.With us you get professional painter services. We will be there when you need us, and we will always make sure that you are happy with the results. We have a lot of experience in providing exterior paint or interior painting services to all types of business which include:
Offices
Godowns
Health fitness centers
Property management companies and more.
We will always strive to give you the quality paint job which you expect in a timeline that is expected. You would not believe how quick and easy it is to give your beautiful spaces or office a fresh new look with the Freshhomez action painting.
The benefits of using a Commercial Painting Company
We will provide a detailed proposal, specific to your business that clearly outlines our painting services and the total cost of your paint job. Whether it is enamel painting services or distemper painting services, all products and processes will be well detailed in our quotation and the square footage will be clearly mentioned. Our estimators give you an up-front, accurate price, and our expert painters will work from your proposal to make sure your action painting project is completed with on-time deliveries.
Freshhomez expert painters are:
Professional
Licensed
Insured
Bonded
You don't need to put your business on hold. In most cases, we complete the project on off-business hours or off-business days. We get it, the loss of business hours is a big pain in undertaking commercial painting projects – that is why we focus on getting the job done right and getting it done quickly with a focused approach on how to work.
We also recommend low VOC paint, which means no headaches from the harsh odours when you return to your freshly painted office.
Benefits of Interior office painting
Whether it is a single office or the entire office building, no job is too small or too big for our teams! Our most professional and friendly office painters are ready to transform your space. Our major goal is to minimize disruption, which means that we will work around your work schedule so that you can get back to business with an accurate time frame. We also provide colour combination ideas consultations and can work with you to pick colors that will help to boost productivity and improve the work space environment. Slowly and steadily we have made a name in the commercial painting industry.
Strata painting for your residential towers
Our team of experts are highly trained in working on a several type of commercial painting industry or industrial painting job, which makes us an ideal choice for any strata. We can work on the low rise or high rise multi-residential homes in a way that will truly amaze your residents. Keeping your specific strata needs top of mind is essential to us. We will work closely with you to make sure that the painting experience is hassle-free and even meets your strata unique requirements. For executing a strata painting project, one needs a large team of supervisors and paints. This is something that most people cannot provide, unless you are dealing with a professional painting services company like FreshHomez. The square footage is daunting for most, but not for companies like ours.
Townhouse painting
We are happy to help with a wide range of townhouse drywall painting or decorative painting or textured walls projects! Whether working on the interior or exterior painting tasks, we can work directly with your property managers or tenants to paint the property in a way that will truly amaze up everyone. We are able to paint several property types, which includes walk-ups, high rise, low rise, co-ops and much more. Reach out to us about your specific needs, and we will work with you to make the process on budget and easy.
Retail store painting
Painting your retail space can look difficult to plan and organize! At Freshhomez, we will work with you to make sure that your business hours are minimally impacted and that the colours which you choose are a perfect fit for your brand. We can help you to pick durable and grind-resistant options for flooring and high-performance wall colours that are designed to last. We're happy to work with you from the blueprint stage, no matter whether it's small or large, the square footage is never a concern.
Schedule a commercial painting job today!
We are not done until you say that we are done! Nothing is more significant to us than your satisfaction. There are many different types of painting products and all need specific steps and processes for getting the best result. Depending on the product used, a different number of coats of paint may be needed. Using the genuine quality of paint is essential and sourcing needs to be controlled tightly to achieve this. The last step is always a walk-through with you while the paint is drying to ensure no touch-ups are required, and then offer a full clean-up once you sign off on the work. We then follow up post job completion to make sure you are more than happy with the desired results. Our quotation is always comprehensive, there will be no hidden labor costs, you are promised a team of professional house painters.